An Exciting New Feature
If you're as strapped for cash after this holiday season as I am, you'll appreciate one of Quality Logo Product's latest features. Quality Logo Products has a menu that allows you to get a price quote, access live online assistance, order a product, suggest the product to a friend, convert the page into a printer friendly version, bookmark the product, and finally, to request a sale notification.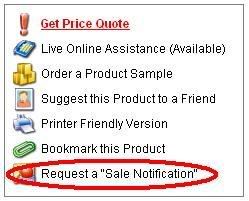 Sale notifications work in two ways. If our stock is low or sold out completely, we are able to list it as unavailable. But what if you had your heart set on that dog shaped carabiner? Simply add your name to the sale notification list so you'll know as soon as those pups come in. Also, the sale notification lets you know when the product has reached close out prices. If we are trying to clear up some room or don't intend to sell a certain custom product any longer, it may go to closeout or sale prices. This feature will let you know when the price has dropped.
Save yourself the worry of rechecking the site constantly and sign up for sale notifications on your favorite products today.
Bubba
Bubba is the Quality Logo Products mascot. He may have started out as "just a stress ball," but he's come a long way since the company's launch in 2003. Bubba has been immortalized in numerous vector artwork designs for internal and external promotions, and you can see him change outfits on the Quality Logo Products homepage whenever a holiday rolls around. Oh, and he thinks pants are for the birds. You can connect with Bubba on Google+